Get ready to roll, folks, because this year's 12th Annual MJBizCon is just around the corner!  We're not just here to talk shop; we're here to get everyone ready as we gear up for MJBizCon with our 31 Days of Croptober Giveaways!
MJBizCon and all our fabulous partners are all about celebrating our incredible community, but right now, we're shining a spotlight on our outdoor growers who are knee-deep in their harvest season. This promotion is our way of tipping our hats to those hardworking men and women who are putting in countless hours harvesting their cannabis crops.
So, how do you snag these epic prizes? It's a breeze!
Just buy your ticket to MJBizCon in the month of October (or if you already have one, you're in the game!), and you're automatically in the running to win some seriously cool stuff.
And let's give you a sneak peek of the goodies up for grabs:
Roundtrip Airfare
Cash
$250 Voucher to Spend at the Hara Supply Booth #4608
Two Emerald Tickets to Enter the Money Machine sponsored by Green Rebates (Booth 29006)
MJBizCon Gear Gift Vouchers
Tickets to the Emjays and Farechild After Party sponsored by Farechild
Upgrades to Pre-Show Forums
Upgrades to Conference + Expo Passes
Upgrades to VIP Passes
3-Day Monorail Passes
3-Day Lunches at the Las Vegas Convention Center
and so much more!
WEEK ONE WINNERS FOR OCTOBER 1-7:
Marcus Aguilera, Lumpy's Flowers
Jason Nelson, Beleaf Medical LLC
Kevin Corby, Proper Brands
John Hoff, Thirdstate Cultivation
Autumn Karcey, Alchemy 29
Arieila Chagolla, Sweet Dreams
April Hang, Green Leaf Gold
WEEK TWO WINNERS FOR OCTOBER 8-14:
Kevin Wong, Eagle Valley Farm LLC
Troy Coneybeare, Northern Scrogger
Mateus Tebaldi, Pharmacann
Greg Hersly, Blue Dream Capital
Lori DeCarlo, NOBO Inc.
Ryan Montella, EOS Farms
Steve North, POP 82 Inc.
WEEK THREE WINNERS FOR OCTOBER 15-21:
Leon Tillmans, Pacific Dutch Group
Lauren Accardi, Naturepay
Grant Palmer, Cannacruz
Angela Lutz, Lifted Cannabis Co.
Kent Thomas, Oceana Gardens
Dennis O'Carroll, Greenlight Distribution
David Croom, Agro Mechaniz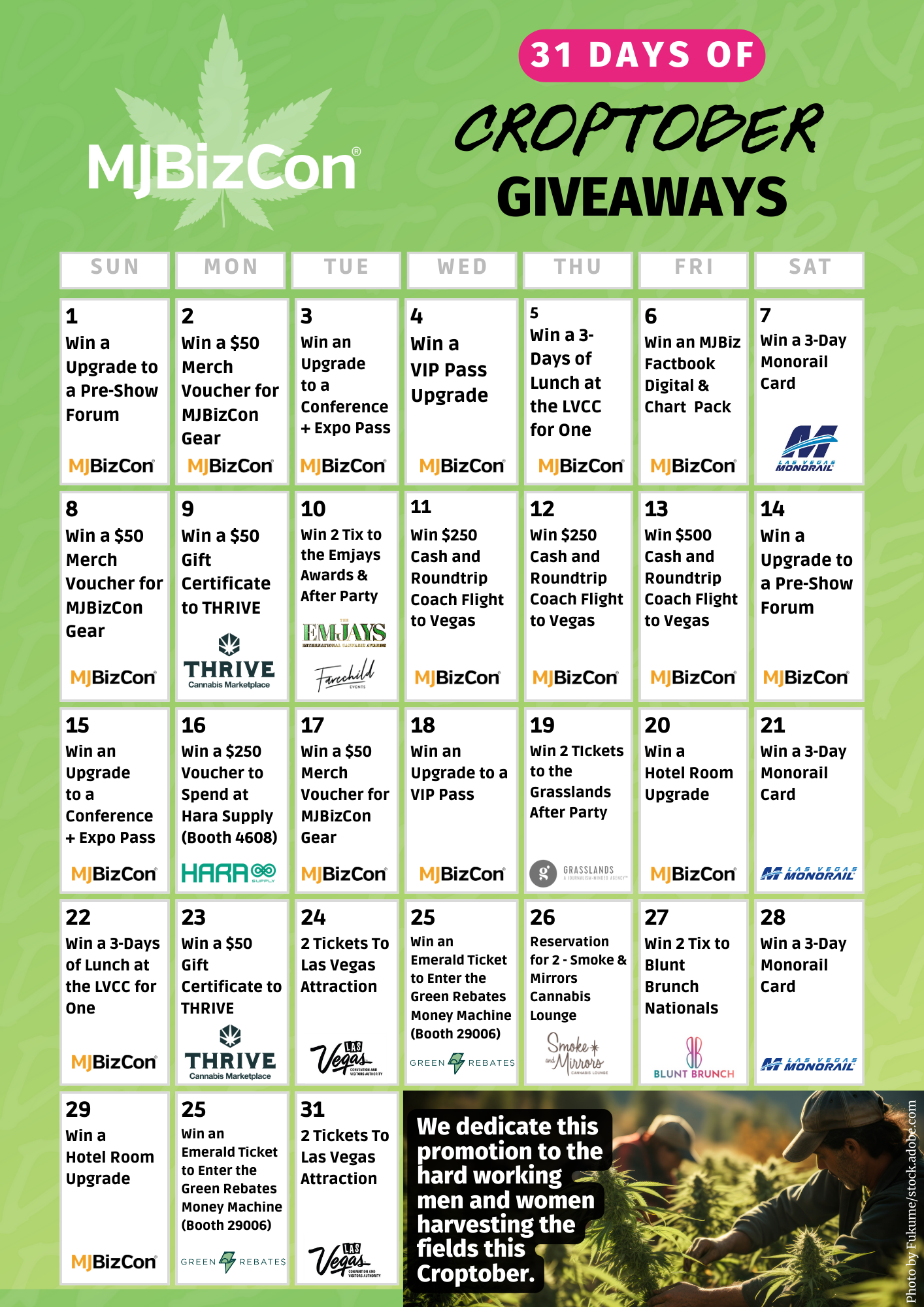 Thank You to Our Croptober Giveaway Sponsors