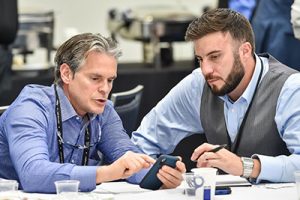 This two-day conference connects high net worth and accredited investors tied to family offices, banks, venture capitalists, hedge funds and institutional investment firms with the forecasts and data crucial to making informed decisions in a dynamic global industry.
The Investor Intelligence Conference is designed by MJBizDaily's Investor Intelligence, a premium resource for the balanced and unbiased market intelligence, realistic projections and insider analysis needed to navigate the hemp and cannabis industry
This in-person event is one of those rare opportunities to deep dive into cannabis investing featuring elite programming like "Ready to Invest" by The Arcview Group as well as the a master class by Cowen Inc, followed by the chance to put that knowledge to good use on the MJBizCon Expo Floor.
Serious cannabis investors – from institutional and accredited investors to high net worth individuals – will be able to dive into topics and trends that are critical to investing strategies:
Explore new ways to conduct due diligence with solid evaluations and realistic projections
Gain personal insight into management teams and companies' best practices
Identify new or emerging markets with insight into CPG production and retail potential
Avoid common mistakes with insights into legal and regulatory issues from cannabis lawyers and experts
Connect with entrepreneurs looking for short and long-term funding
General session topics will range from "Unicorns: Evaluating Companies and the Unique Cannabis Pitch" to "The View from Wall Street," presented by Danny Moses. MJBizDaily's own investing analysts will discuss deal flow trends in the market and lead a lengthy Q&A between the audience and investors.
Breakout sessions will cover a wide range of topics from the broad to the niche subjects: globalization of cannabis, the regulatory landscape, consolidation, and investing across all aspects of the value chain – including socially responsible investing. Attendees will hear about the varied US markets, as well as Canada, Europe, and the markets beyond.
Limited Availability: Qualified investors are encouraged to register promptly to secure a spot at this exclusive and intensive conference.
All content provided by MJBizDaily and authorized affiliates regarding MJBizDaily's Investor Intelligence Conference is for educational purposes only, and should not be construed as advice for legal, tax, investment, financial, or otherwise, if/when provided by any official source before, during, or after the conference. Information related to IIC provided by any official MJBizDaily source is not a solicitation, recommendation, endorsement, and/or offer by MJBizDaily, authorized affiliates, speakers, or authorized third party associates to buy or sell securities and/or other financial instruments in any jurisdiction in which such solicitation or offer would be unlawful under the securities laws of such jurisdiction.
DATE: Monday, December 9, 2019 & Tuesday, December 10, 2019
TIME: 9:00 a.m. – 5:00 p.m.
LOCATION: The Cosmopolitan of Las Vegas
COST: $999 USD – Early Bird pricing ends 9/26
---
Book Your Hotel for the Investor Intelligence Conference at The Cosmopolitan of Las Vegas!