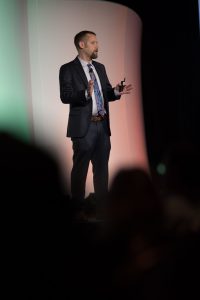 Do you have a new innovative product or service for the B2B market that other cannabis businesses would benefit from and MUST know about? Do you consider your new product or service the latest and greatest that your peers will rave about? Now is your chance to share it with a captive cannabis industry audience!
MJBizConNEXT will have an all-new Innovation Battlefield as one of many great tracks offered this year! The top three applicants will be selected by a group of industry executives. If chosen, this will be your chance to present your product or service and tell the audience why your new, innovative product or service would benefit the cannabis industry. The audience will vote and choose a winner for each niche as listed in the application below.
The submission period to apply for participation closed on March 15th. Decision notifications will go out via email to all applicants by mid-April 2018. 
Qualifying Parameters:
The below parameters must be applicable to your product or service in order to qualify for participation. All information in this application will be vetted before selections are made.
The product or service is currently being sold and has been on the market for a minimum of 6 months and a maximum of 24 months
The product or service must be completely new to the cannabis industry
If the product or service is a newer version of an existing product in your line, it must be significantly different than the one sold previously
The product or service must be aimed at the B2B market, not consumers.
Presentation Details:
If selected, you'll have 7 minutes to present your innovative product or service to the audience
The audience will then have 7 minutes to ask you their burning questions after your presentation
At the end of the three presentations the audience will vote on a winner who will be presented with an award
Only one person from each company selected will be allowed to present on stage (multiple presenters not allowed)
Important note – presentation requirements:
Selected presenters will be required to follow presentation guidelines/include certain information in their presentation – to be discussed with the content team in advance (ie. cost of the product, examples of usage…etc.).
Presenters who are selected must agree not to pitch additional products or their brand on stage, other than the product or service they are selected to present on.