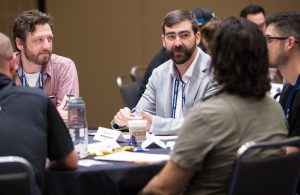 What it is: Coming back for 2019, MJBizConNEXT is pleased to announce an exclusive session dedicated to Lead/Head Cultivators. If you are currently involved as a Lead or Head Cultivator/Grower, you are invited to apply for inclusion in our VIP program.
Format: Discussing the challenges of today and tomorrow in a moderated, structured round table setting with your peers.
Deadline: May 17
Cost: Free to qualified candidates. (Includes a complimentary MJBizConNEXT registration)
*This program includes admittance to MJBizConNEXT, exclusive peer-to-peer programming and exclusive networking . We have waived all fees for the conference and are providing each qualified participant a complementary registration, but you must be a Lead Grower/Cultivator in order to qualify.
Agenda – COMING SOON!
Wednesday, May 12th