MJBizCon's 8th annual main show is a three-day online event designed to help you meet new business partners and discover how to take advantage of the newly advantageous environment for cannabusiness expansion.
Your Guide to the Main Show:
Keynote: Whole Foods CEO John Mackey
Live Wed Dec 2, 11:00am-12:00pm PT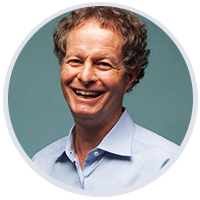 Whole Foods co-founder and CEO, John Mackey, will speak on his concept of conscious capitalism and the four pillars for guiding a business in conducting socially responsible and ethical practices: purpose, stakeholder, culture and leadership.
Mackey will show how each of these pillars can be applied to the cannabis industry for the good of its workers and the industry as a whole. Plus stay online after his speech for a quick 'Fireside Chat' between Mackey and MJBizDaily's own CEO Chris Walsh.
Events
December 2-4, 9:00-10:00am PT
Morning Yoga Sessions
Ease into your day with a clear and peaceful mind. This yoga practice is accessible to all, whether it is your first time or you are an advanced yogi. The intention for this practice is to loosen and stretch the body to help reduce stiffness throughout your work day. Basic techniques will also be incorporated to increase mindfulness, awareness, and productivity. A yoga mat is not required, just a comfortable spot on a padded surface or in a chair.

December 2, 3:00-4:00pm PT
Achieving Equity in Cannabis: Networking Event
Meet the movers and shakers who are driving and championing the equity, diversity and inclusion in the industry. You'll hear from a panel of industry leaders on their efforts to make the industry more inclusive before breaking out into groups to meet fellow entrepreneurs and discuss experiences, opportunities, and solutions for ensuring a diverse industry. After the roundtable discussion, the audience will get to hang out with a Manhattan-based mixologist who will present three easy to make cocktails and mocktails.

December 3, 3:00-4:00pm PT
Connecting Women in Cannabis: Networking Event
For anyone who supports and champions equal representation in cannabis, join us in celebrating the women who are changing the industry for the better. You'll connect with other top women business leaders in cannabis and celebrate the significant advancements and accomplishments female professionals are making.

December 4, 2:00pm-3:00pm PT
Closing Concert Event
As MJBizCon comes to a close for another year, and we get closer to bidding farewell to a tumultuous 2020, turn up your speakers and grab something to help you celebrate and relax. Our live musical act will be playing a combination of crowd-pleasers and special requests as we get together one last time, celebrate the victories that this year's election brought our industry, and look forward with immense optimism to 2021.
Showcase: 500+ Services & Products for Cannabusinesses
Open 24×7 throughout the show, starting Nov 2
See product demos, get your questions answered, chat with execs and compare options for all cannabusiness categories ranging from cultivation technology to testing and lab equipment. Also includes security, extraction equipment and banking services.
December 2 General Sessions + Keynote
10:00am-10:45am PT
Welcoming Remarks & Hindsight 2020: State of the Industry
Chris Walsh, CEO and President of MJBizDaily will deliver the Opening Remarks and Pam Moore, VP of Publishing at MJBizDaily, will look back at the major industry milestones since MJBizCon 2019 and explore the possibilities of the coming year.

11:00am-12:00pm PT
Keynote: Whole Foods CEO John Mackey
Whole Foods co-founder and CEO, John Mackey, will speak on his concept of conscious capitalism and the four pillars for guiding a business in conducting socially responsible and ethical practices: purpose, stakeholder, culture and leadership. After, Chris Walsh, CEO and President of MJBizDaily will sit down for a 1-on-1 fireside chat with John Mackey.
1:00-1:30pm PT
JUST ADDED: Pop-up Discussion – UN Reschedules Cannabis
Join MJBizDaily's Alfredo Pascual and Steph Sherer from Safe Access Now as they discuss the latest news and industry implications following the UN's approval for the WHO recommendation on rescheduling cannabis.

1:00-1:40pm PT
Survival in Uncertain Markets and Preparing for New Markets
Operating a cannabis business in most states is not a walk in the park and the conditions brought on this year have only made a lot of problems worse. For many operators, riding out these uncertain times is the main priority until some stability comes around. This session will look at how operators in troubled markets are handling the challenges presented today to put themselves in a better position for the future and will also look at how operators are handling the new, upcoming markets post-election. In this session, you will learn:
How to creatively boost your brand awareness in your given market
The importance of keeping lines of communication open with local and state regulatory agencies to maintain the most up to date information
How to maintain a solid balance sheet until stability surfaces
The next steps to prepare for a new legalized recreational or medical market
2:00-2:40pm PT
Climate Change, Quarantine and Cannabis: How to Prepare for an Unpredictable Future
If this year has shown business owners anything, it is that you can never been too prepared for the future. From wildfires to a global pandemic, cannabis operators have had to adapt and keep moving forward. This session will look at how those operating in the cannabis industry can mitigate their risk in the future and have a better understanding of what steps they should be taking now. In this session, you will learn:
How to identify risks by looking at current trends
How to identify what specific insurance your business requires
Key considerations for your type of business
December 3 General Sessions
10:00am-10:30am PT
Bringing CPG Marketing to Cannabis
As legalization expands and normalization continues, cannabis is emerging as a new consumer packaged good (CPG) category. Giants in the CPG sector have already waded into the cannabis industry with investments and acquisitions and that interest from mainstream industries is expected to continue as the industry progresses. Companies in the CPG sector have carved out their brands and consumer bases with effective and targeted marketing tactics, but how can cannabis companies take cues from CPG marketing tactics and apply them to their brands? This session will look at lessons learned and case studies with CPG veteran and Charlotte's Web CEO, Deanie Elsner. In this session, you will learn:
The importance of understanding your consumer and how to effectively target that market
How to make your brand stand out among a sea of similar products on the market
Translating CPG brand success to a highly regulated industry like cannabis
10:30am-11:30am PT
Being Smart with Your Dollar
Cash flow is one of the most important metrics for cannabis businesses to manage closely and carefully. The cannabis industry has seen the effects of poor cash management through liquidations, forced sales of companies, and low valuations. Cash flow may be strong, but your cash management skills (and your patience) must be stronger! This session will take a look at how cannabis operators can manage their money wisely to position themselves well for the future. In this session, you will learn:
How to manage your inventory and working capital
How to forecast demand and remain practical with your expectations
Tips for good bookkeeping practices and how that can keep you out of hot water later
1:00pm-1:40pm PT
How the Game has Changed: Tech, Automation, and New Approaches in Plant-Touching Businesses
Farmers and processors of commoditized crops have utilized automated systems and adopted new technology for years to help them make more informed production decisions. This new technology is now being implemented in the cannabis space to help cultivators and processors gather the data needed to improve processes, create consistency and forecast yields more accurately. This session will look at what technology is available to those operating a plant-touching business and how to evaluate the benefits of adding new technology. In this session, you will learn:
What technology is available in the cannabis space and how it can help your operations
How to weigh the ROI of implementing new technology in your operations
How technology is enabling operators to produce consistent and predictable yields
2:00pm-2:40pm PT
Using Data to Optimize Business Operations
As the industry matures, data plays a vital role in reducing costs, becoming more efficient and discovering new methods for operation. Taking a deeper look at the data being gathered can help businesses identify deficiencies in their operations and help to develop better procedures to increase their bottom line.
In this session, you will learn:
How data can help operators in finding deficiencies and correct them
What changes can be made to optimize your procedures
What data can tell you about updating your SOPs
December 4 General Sessions
10:00am-10:15am PT
5 Predictions for 2021
As 2020 comes to an end, the cannabis industry has endured all the disruption that this year has brought and continues to push forward. In this session, MJBizDaily's CEO Chris Walsh will take a deeper look at how the industry can emerge in 2021 and predictions for the year ahead.
10:15am-11:00am PT
CBD in a Global Recession
The CBD industry has seen tremendous growth since the Farm Bill and is now facing its largest hurdle: global recession and pandemic. Consumers are shifting behavior, e-commerce sales are spiking, and the landscape looks vastly different. The success of brands in this environment will heavily depend on their ability to pivot, listen to consumers, and deliver great products. In this session, you will learn:
Why e-commerce, convenience stores and gas stations present huge sales opportunities
Why a strong, direct-to-consumer model is crucial for your success
The importance of building brand loyalty with your core customers today.
12:00pm-12:40pm PT
Preparing for Recovery: Lessons Learned to Move Forward Strategically
As progress is made in dealing with the crisis this year, businesses should look towards recovery to ensure their organizations are poised to thrive moving into next year. The crisis forced many to rethink and reconfigure how their business was run to meet evolving business needs. Preparing for the recovery phase will help businesses bridge the gap between responding to the crisis and how they can thrive in the aftermath. In this session, you will learn:
The importance of realigning your operations to meet the needs of a new business landscape
How to plan for multiple scenarios and best position your business to thrive
How data can help forecast what changes could be coming next and what actions you should take now
12:00pm-12:40pm PT
Curbside, Delivery, and Drive-Thrus: The Future of Cannabis Retail
Social distancing, sanitation regimens, mask enforcement—in-store sales have never been more complicated! When the crisis hit this year, cannabis retailers were forced to adapt quickly and implement measures to serve their customers safely and effectively. Moving forward, how will cannabis sales be affected by the pandemic and how will the future of cannabis retail look? In this session, you will learn:
How the recession could affect sales moving into 2021
What measures from the crisis could remain moving forward?
The impact on customer's retail habits and how to use that data to make informed decisions
Industry Newcomer Sessions
If you are considering entering in the cannabis industry or have just started out, these two on-demand sessions are for you:
Cannabis Considerations: Tips for Starting Up
With high barriers to entry, the cannabis industry is no walk in the park to get started in. For those looking to get their business off the ground, it is crucial to consider your next steps. Entrepreneurs will need to do their due diligence when it comes to securing your license, business structuring and planning, legal protections, banking options and more in order to get the ball rolling.
Start-Up Capital and Funding Your Cannabis Business
Getting started in cannabis is an expensive venture. A lack of capital is one of the primary reasons that cannabis start-ups fail before having a chance to get off the ground. Raising the necessary capital is key to surviving in any legal, cannabis market. Learning the in's and out's of acquiring capital in cannabis and deploying that money in strategic ways can help ensure a successful start to your business.