Dare To Stories
What's Your "Dare To" Story?

Tell Us Your "Dare To" Story?
In order to make it in the cannabis industry, first you must dare to.
Despite the challenges of complex regulations, banking limits and legalization woes, many have carved out success in the industry, through hard work, passion and a shared love of the plant.
Tell us about your cannabis journey here.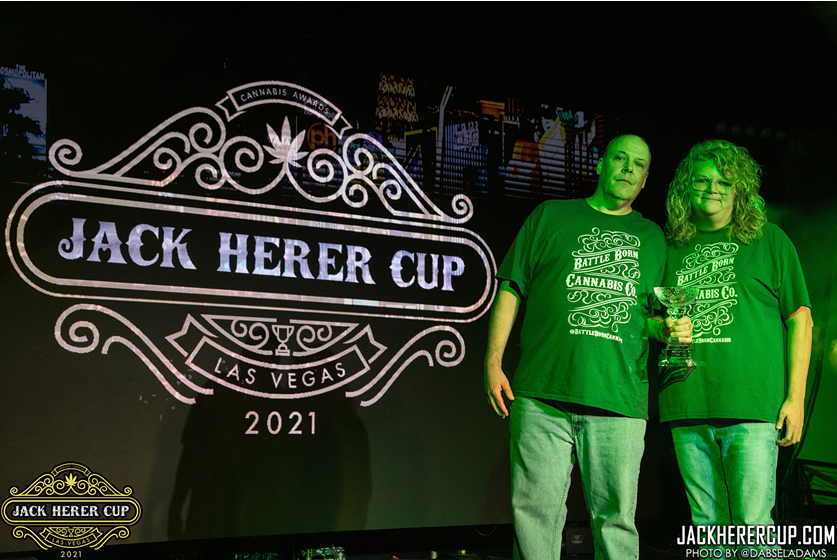 Dare to
Battle
Christy Carmody – Co-founder – Battle Born Cannabis Co.
Christy began homegrowing 23 years ago to help treat the symptoms associated with her husband's multiple sclerosis diagnosis as well as her own degenerative scoliosis.
In 2017, the husband-wife team started exploring edibles and found the category lacked all-natural, sugar-free formulas. So they began making their own recipes and landed on raw distillate elixirs.
Flash forward a few years and their new company, Battle Born Cannabis Co., took home the 2021 Jack Herer Cup for Best Patient Product and won the and the 2022 Kushstock Best Edible competition.
But the battle isn't over.
Their accomplishments haven't been enough to overcome partnership and licensing hurdles in Nevada. But Christy finds inspiration from other companies at MJBizCon.
"We were about to give up last year, but MJBizCon gave us the motivation to keep going," Christy said. "Hearing the speakers' personal journeys really lit a fire under our asses."
Battle on, Battle Born. You got this!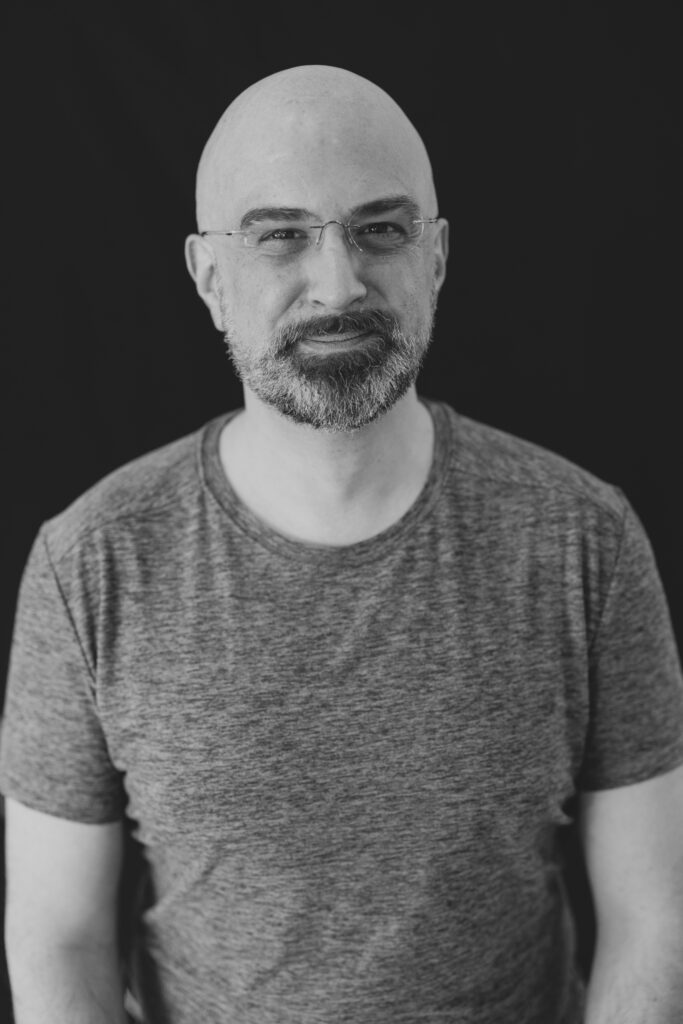 Dare to
Protect
Justin Kahn – Co-founder/CEO – Reepher, inc.
Justin Kahn's connection with cannabis reaches back decades. In 1984, First Lady Nancy Reagan visited his elementary school to promote the D.A.R.E. program.
But as Justin grew older he turned to cannabis to manage a mild form of epilepsy caused by a traumatic brain injury. "Cannabis gave me my life back," says Justin.
He went on to own several businesses, but after his last company sold, Justin decided it was time to turn his business skills toward making a difference for cannabis consumers. He founded Reepher, which provides coverage for cannabis DUI and possession charges for a monthly fee.
While marketing and advertising have been a challenge, Just says having a vision and being persistent helped the company overcome these obstacles experienced by many ancillary cannabis brands.
"Attending MJBizCon has opened doors to partnerships, friends and avenues for new opportunities," Justin adds.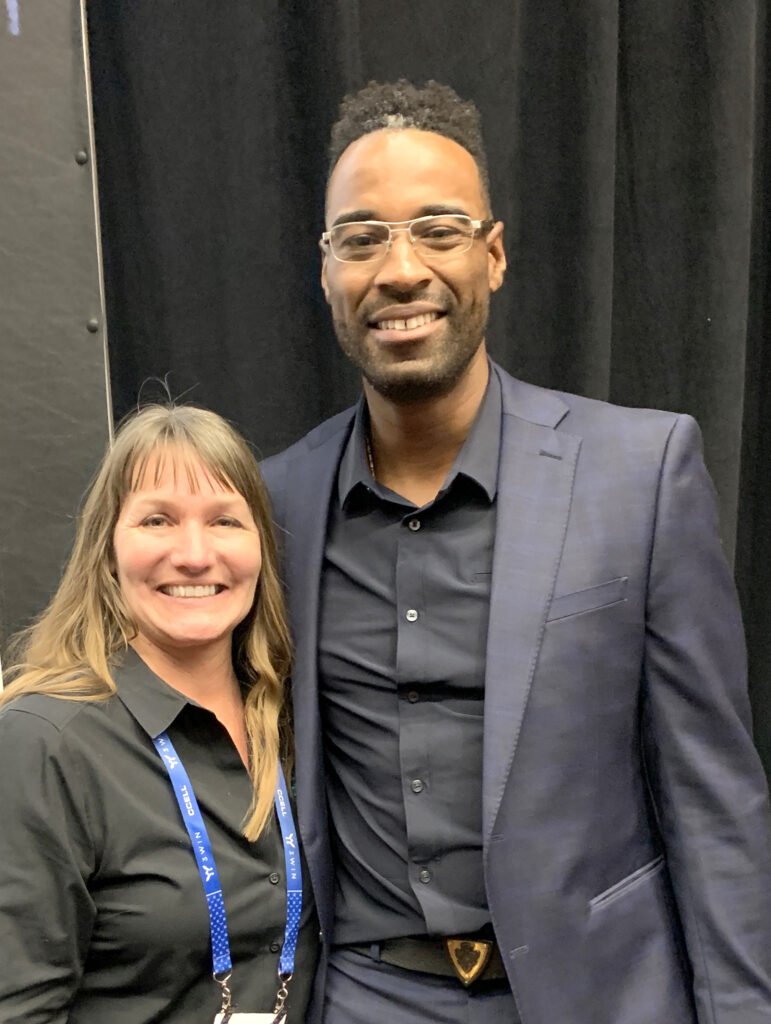 Dare to
Pursue
Sherry Smies-Evins – Founder/President – MC3 Botanicals
Sherry Smies-Evins never aspired to work with cannabis. She barely noticed the anti-cannabis propaganda of the 1980s and 90s.
So it was serendipitous when Sherry was asked to join the leadership team of a cultivation start-up in her home state of Michigan after years spent working in male-dominated industries including auto products and advertising.
She began attending MJBizCon to gain a foundational understanding of this industry and how to succeed in it. Around that time, Sherry also saw the real-world impacts of cannabis as medicine when her sister used the plant to ease the symptoms of cancer treatment.
Convinced by the healing power of the plant and her newfound cannabis expertise, Sherry dared to bet on her business acumen and professional network to launch a woman-owned cultivation business after the CEO of the original start-up backed out last minute with cold feet.
Sherry and her new team were determined to overcome the challenges of licensing, raising capital and a complex facility buildout in Michigan's upper peninsula.
The result was MC3 Botanicals, a small-scale craft cannabis producer which has succeeded in being the first energy-efficient greenhouse to be licensed and operational cultivation operation in Michigan.
"It's not easy, and only passion, determination and hard work will keep you going in the ever-changing cannabis industry," Sherry says.
Sherry has attended MJBizCon every year since 2018 to build on her expertise and make new connections, which over the years have developed into lasting relationships.
"MJBizCon was the only educational venue available at the beginning and also offered a venue where I could make connections with companies in the building, lighting and technology industries," she adds. "I look forward to MJBizCon every year!"
Dare to
Write
Lance Lambert – CMO – Grove Bags
Lance Lambert grew up in Northern California during the post-hippie era and he learned about cannabis through the D.A.R.E. program.
Ironically, Lance studied criminal justice and used income from illicit cannabis sales to fund his college education. But at this time Lanced didn't fully understand the healing powers of the cannabis plant.
Lance eventually broke into the cannabis industry, landing a job as General Manager of The Cannabist.
"Through our editorial coverage, I saw this plant helped children with epileptic seizures," says Lance. "That was a true eye opener, especially being a cancer survivor and having gone through my own health woes."
Today Lance remains a proud advocate for cannabis, despite many of his friends still believing the stigma generated by the war on drugs.
"Once I opened up about my support for the plant, it allowed me to use my years of writing to share the benefits with others," Lance says.
Nowadays Lance serves as Chief Marketing Officer at Grove Bags, and he looks forward to attending MJBizCon each year as an annual benchmark for himself and industry colleagues.
"I remember when MJBizCon was a little show with hundreds, not tens-of-thousands, in attendance," he says of the early years of the show. event. "Just like the acceptance and understanding of the plant has grown, so has this pivotal show."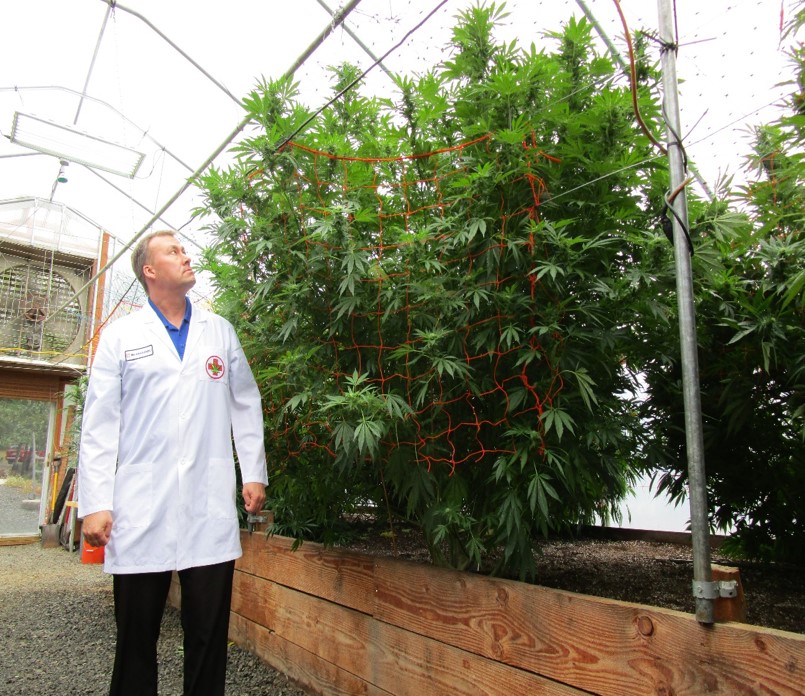 Dare to
Share
Dr. Scott Kuzdzal – VP, New Strategy – Shimadzu Scientific Instruments
The cannabis science and ancillary manufacturing sectors have come a long way from what Dr. Scott Kuzdzal saw when he first began working in cannabis in the early 2000s.
Dr. Kuzdzal began working in quality control testing with the goal of improving and standardizing cannabis potency, terpene and contaminant lab testing.
"There were far more laboratory testing requirements for wastewater than cannabis," he recalls of the sector's infancy period.
Now a VP at Shimadzu Scientific Instruments, which manufactures precision technology and equipment for marijuana and hemp, Dr. Kuzdzal points out the obstacles faced in those early days.
"It was a challenge to bring our knowledge of clinical, environmental, food science and other industries to the cannabis industry to improve the overall quality of laboratory testing," he states.
In addition to the lack of peer-to-peer transparency related to proprietary testing methods, Kuzdzal says the stigma around the plant slowed progress.
Today Dr. Kuzdzal credits MJBizCon and other industry for helping improve collaboration, shared information and scientific progress in cannabis.
"Whether you are an industry expert or a novice, there is much to learn every year at MJBizCon," Dr. Kuzdzal says.
Part of that growth is also tied to dissolving the once-toxic stigma around cannabis, which Dr. Kuzdzal recognizes as a final major barrier limiting the scientific potential of the plant.
"It is encouraging to see the stigma and miseducation of the 1980s and 90s replaced with knowledge and science," he adds. "It is time to stop being afraid of plants and time to learn how to understand their chemistry and power."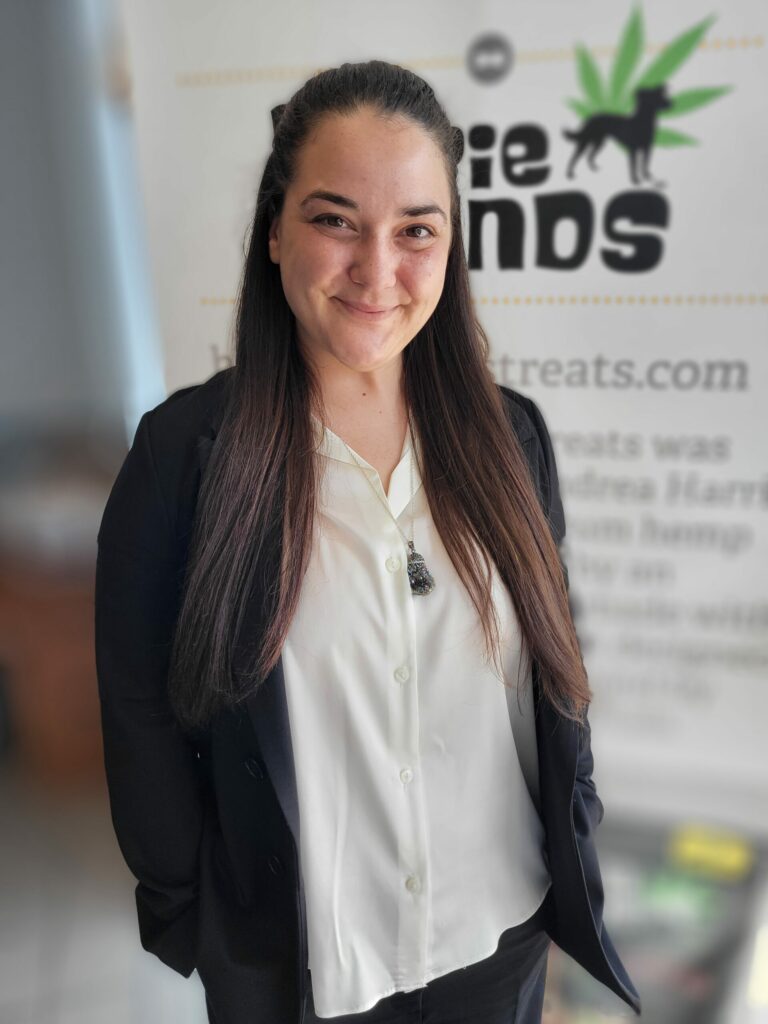 Dare to
Treat
Andrea Harris – Owner/CEO – Hippie Hounds Treats
Growing up in the 1990s, Andrea experimented with cannabis as a teenager and was arrested for cannabis possession at age 18.
The arrest sent Andrea into a downward spiral where she felt she was "at the bottom of society" due to the stigma surrounding cannabis use. At the time, she felt the conviction had destroyed her chances of succeeding as an adult.
But with perseverance, Andrea landed a job in veterinary medicine. She also got a medical marijuana card in her state, but became aware of a coworker who avoided medical treatment for a dog bite because – despite having a valid MMJ card – he feared testing positive for cannabis use would compromise their careers.
Andrea began an advocate for both humans and animal to have access to safe use of cannabis. She formulated her own hemp dog treats to help vets provide cannabinoid therapy to animals and eventually founded Hippie Hounds Treats. But the veterinary industry in Arkansas was very divided over the use of cannabis in treatment and consumer education and misinformation was a huge hurdle. "Very few understand the deep workings of the endocannabinoid system."
The Hippie Hounds team is exhibiting for the first time at MJBizCon this fall to make critical industry connections and "reach more dogs!"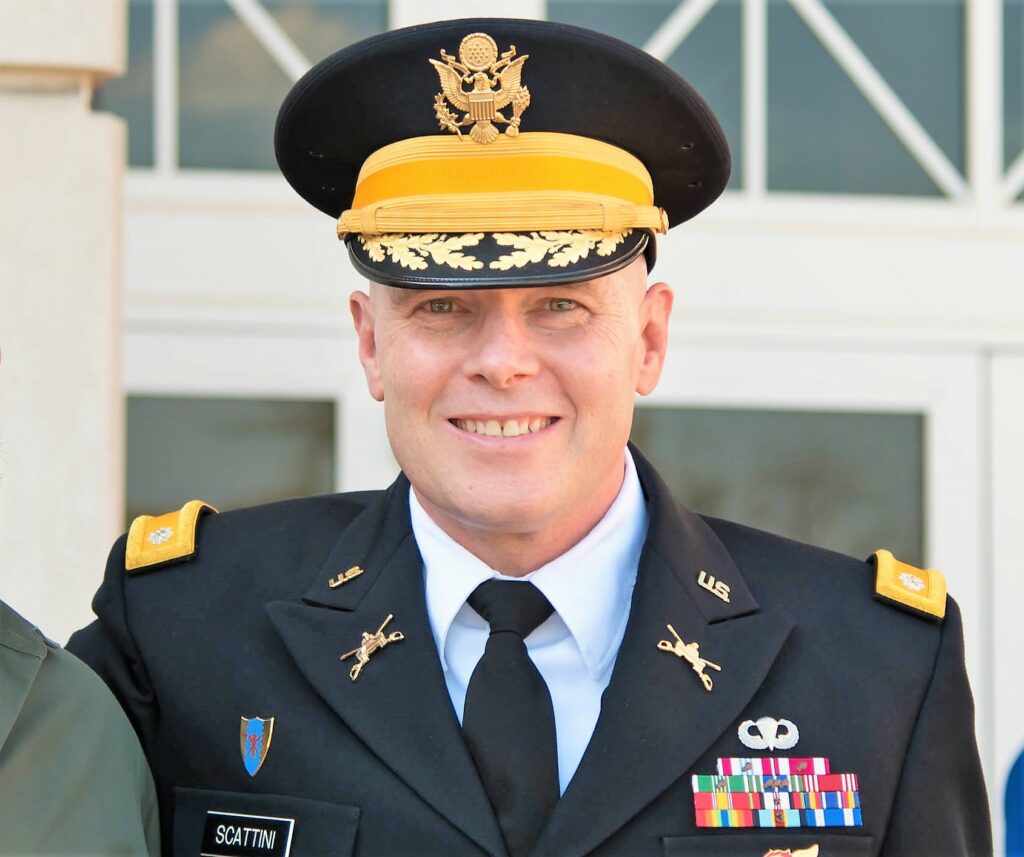 Dare to
Serve
Todd Scattini – Founder/CEO – Harvest 360 Technologies
Todd graduated from West Point and served 27 years in the U.S. Army – during which he was subjected to regular drug tests.
While stationed for duty in Afghanistan, however, Todd discovered and became fascinated with the cannabis plant, and made the recommendation to his commanding officers that the country could transition to a hemp-focused economy.
"I thought the recommendation followed suit to their strengths," Todd says. "Since hemp was an industrial product widely legal across the globe and could provide food, fuel, fiber, building material and medicine, it was ideal for the Afghans."
Todd's colleagues disparaged his idea, but his newfound passion for cannabis wouldn't be denied.
"I was committed to legalizing cannabis in Missouri where I live, but also focused on ensuring that veterans would have access to medical cannabis," he adds.
Todd retired from the Army to team up with other veterans and launch a consulting firm aimed at helping aspiring entrepreneurs – namely racial minorities, women and disabled veterans – apply for and obtain cannabis business licenses.
"I sacrificed future ranks and positions just to get out of the Army to be able to openly discuss cannabis as an option for veterans to use to treat PTSD and chronic pain," Todd adds.
Today, Todd and his team remain committed to driving the cannabis industry forward and helping to resolve the problems created by prohibition.
"I love seeing the new people flocking to the industry and we love to engage with our long-time friends and partners," Todd says of returning to MJBizCon each year. "We take the opportunity to identify and bring into our eco-system [of] new technologies that can help the industry be more exemplary, more sustainable, safer and much better than anyone ever imagined."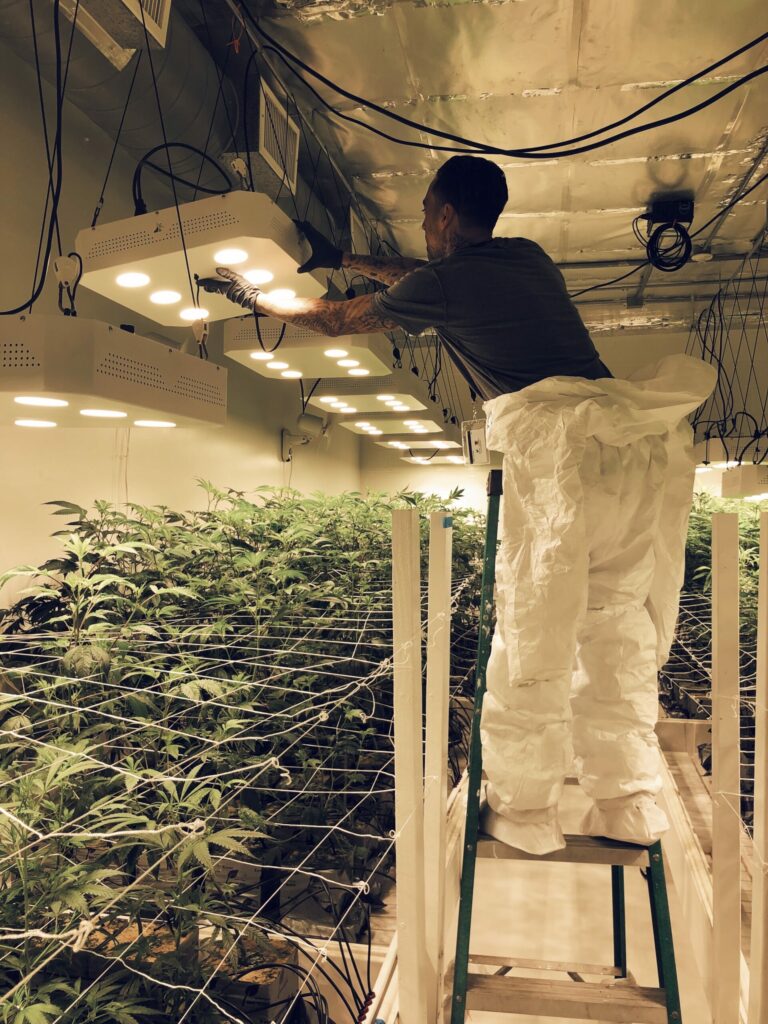 Dare to
Deliver
Drew Director – CEO – High Tide
Drew Director was robbed for over $30k in a cannabis a transaction gone wrong, during college.
"It changed my life and I swore to stay out of the business forever," he says.
But when California passed Proposition 215 to legalize medical marijuana in 1996, Drew jumped on the opportunity to get back into cannabis.
He launched a vertically integrated delivery service which started with fulfilling orders for a few friends and quickly surpassed millions of dollars of revenue. But despite his company's success, he was operating without a state license and terrified of losing his business. Drew was finally granted a license after two years.
Unfortunately, the license resulted in new problems. High taxes and strict regulations depleted company profits.
"We started to lose an incredible amount of money," Drew says. " It's the reason I am now in debt and can barely afford to buy groceries."
Drew and his team attend MJBizCon to connect with other cannabis executives in hopes of tackling some of the common issues head on. "Together we can help overcome the challenges we face in this highly regulated and over-taxed industry," Drew says.