Hall of Flowers Experience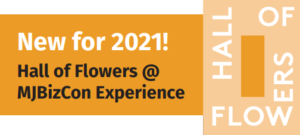 The New! Hall of Flowers Experience at MJBizCon (Located in the North Hall at the LVCC), will bring together a curated collection of some of the industry's premium licensed cannabis brands and retail buyers.   Buyers will be able to set up 1:1 appointments with the brands they want to meet, plus walk the 250,000 sq ft MJBizCon expo floor to meet suppliers that cater to retail operations.
Plus attend the retailer sessions that are taking place that will help you improve your retail store experience, diversify your product mix, and manage growth.  Register for your conference or expo pass today!
Here's a partial list of just some of the leading cannabis brands you can meet:
Green Life Productions
Kiva Confections
Watch for more brands to be announced.