Note: The opinions or advice expressed in this blog are those of the contributing author or authors and do not necessarily reflect the official position or policies of Marijuana Business Daily or any of its associated brands. The editors of MJBizTalks accept suggestions or contributions from professionals with comprehensive and/or authoritative knowledge in their field. Guest contributions are reviewed, but edited only for clarity.
The data is in. Time after time, purpose-driven companies financially outperform companies without a clearly defined social mission. In fact, Harvard Business Review states that 58% of purpose-driven businesses demonstrate 10%+ growth after three years while only 42% of traditional companies can make that claim. And ten years out, purposeful, values-driven companies have 12 times higher stock prices according to Corporate Culture and Performance.
Cannabis businesses are no different. To thrive, you need loyal customers, engaged employees and a healthy community. Prioritizing purpose over profit has a significant, positive effect in each of these areas.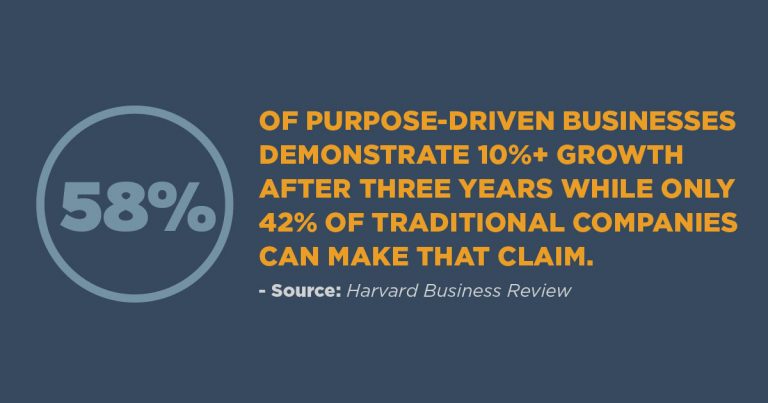 Earning Customer and Budtender Upvotes
Even better news — did you know that Cone Communications finds nearly 90% of shoppers are likely to switch to brands that support a good cause, given similar price and quality? Furthermore, nearly 80% of Americans report stronger loyalty to purpose-driven brands. Customers are demonstrating that they want influence over where their dollars land.
Read: Customers have real influence on brand success.
This may seem contradictory as budtenders reign supreme when it comes to allocating marketing dollars. Just know, budtenders aren't exempt from these trends. In order to get budtenders to sell your product, they must not only understand and appreciate the quality, they also need to like you. Being purpose-driven is a clear way to earn budtender AND customer fandom.
Employees Crave – and Stay For – a 'Do Good' Mission
This industry, not dissimilar from others, sees employees move from business to business like butterflies in a field full of sunflowers. Good news: purpose helps with employee retention too. Employees are attracted to businesses with a strong social responsibility mission. And they stay longer.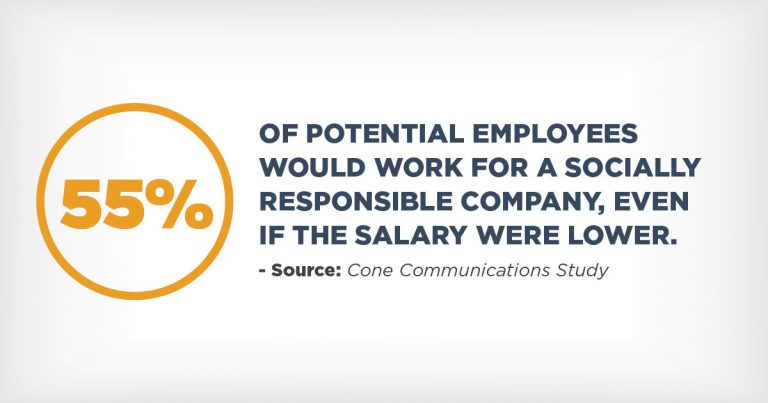 Another recent Cone Communications study shows that 55% of potential employees would work for a socially responsible company, even if the salary were lower. On the job, 71% want their company to provide opportunities to make a positive impact, and 78% of employees want to help their company fulfill its social mission by providing feedback, ideas and potential solutions.
Looking to attract millennials? A whopping 79% of millennials consider a company's social and environmental commitments when deciding where to work.
When it comes to engagement, Deloitte found that staff showed 30% higher levels of innovation at purpose-driven companies, and those companies revealed 40% higher levels of employee retention. That's something to brag about and a huge cost savings.
What's Good for Business Is Good for Community
Rejection hurts — not all nonprofits are ready to accept cannabis industry donations. But thoughtfully chosen charity partners will put your time, talent and treasure to work and demonstrate meaningful impact. Bonus: They make excellent brand ambassadors and provide pathways for employee volunteerism (more about finding strong charity partners in a future post).
Developing mutually beneficial relationships with one or more partners is hugely beneficial for communities they serve – but it also helps build community goodwill, raise awareness for your brand, and may even leverage positive press.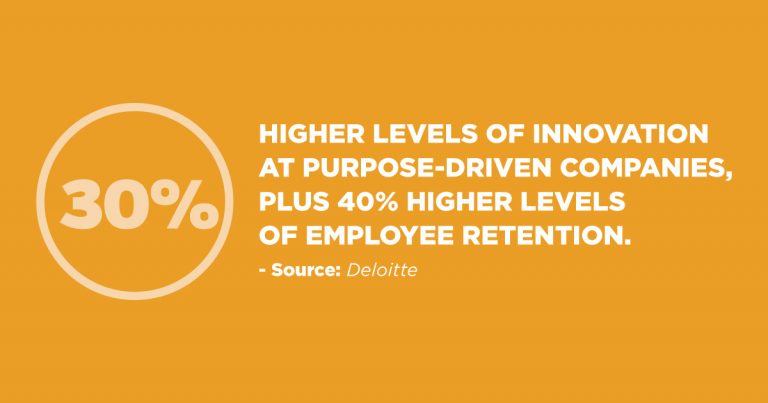 Purpose is not a side project
The purpose-driven company incorporates their social mission into all facets of the business, and uses purpose to shape operational decision-making. For example, if your brand's higher purpose is reducing environmental impact, then each employee is tasked with finding ways to reduce energy and waste. This may mean encouraging fellow staff members to carpool, seek out 100% recyclable packaging, or select supply chain vendors that utilize renewable energy.
Regardless of the specifics, the entire team is focused on a singular purpose that takes on greater meaning than pure profit. In time, all stakeholders begin associating this higher purpose with your brand.
Transitioning to a purpose-driven cannabis company can feel overwhelming. Know this: starting small yields big return. Developing and incorporating a unique and authentic social mission may very well be your best long-term business investment, and it helps drive the entire industry forward.